Posts Tagged 'shangri-la dialogue'
Why did China downgrade its representation at this year's Shangri-La Dialogue? Aside from US Defense Secretary Leon Panetta's expected articulation of specifics regarding the US rebalancing to Asia (not pivot, as I've noted), this was the headline that dominated the Asia security meet in Singapore this weekend.
In contrast to last year, when Beijing sent Chinese Defense Minister Liang Guanglie who spoke at the proceedings, this year China sent People's Liberation Army Lieutenant General Ren Haiquan, who is vice-president of the Chinese Academy of Military Sciences. A defense ministry official confirmed that both the ranking and number of Chinese participants were both the lowest to date.
In a great post, Josh Rogin laid out three separate theories as to the downgrade. The first is that China's domestic political transition means the country is more cautious about showing up to forums where they may be hurt domestically; the second is that Beijing has concluded the forum is too easily a space for regional medium sized powers to gang up on China, and the third is that China is trying to send a message that it opposes regional multilateral forums that include the US and that it wants to establish that China's relationship with its neighbors are not an issue Washington should be included in.
But there is no reason why these three explanations should be mutually exclusive. In fact, in my view, none of the single explanations are sufficiently strong enough to stand on their own. China has faced many questions from the US and ASEAN about the South China Sea in previous years, and it openly admits on a regular basis that it faces a plethora of domestic challenges. Furthermore, there have been other recent forums where Beijing has sent a high-level representation. So why is it reacting this way this year in this forum?
My own take on this question is this. The two issues that were expected to dominate this year's Shangri-La Dialogue were US Secretary of Defense Leon Panetta's specifics on the US rebalancing to Asia as well as developments in the South China Sea due to the saber-rattling between Beijing and Manila over the Scarborough Shoal. Recent history suggests that the following rough pattern often ensues when China reacts to these two issues, which others have noted as well:
1) Beijing issues some sort of statement that often has a clumsy or harsh part
2) That part of the statement grabs headlines and is carried by the media
3) That triggers domestic uproar in China about how the world wants to contain China
4) China's smaller neighbors fear either the response or what it says about Chinese nationalism
5) In some cases, the net result is these smaller countries moving closer to Washington
6) Beijing has to move into damage control at the regional, domestic and international levels
While this pattern is of course not exact by any means and the process does vary on a case by case basis, it does roughly capture what has been going on over the last few years, particularly in relation to the South China Sea. I think China recognizes this, and is gradually trying to search for the best way to deal with it. With the sensitivities surrounding the Scarborough Shoal and the 'rebalance' articulation this year, the risk of this dynamic playing out was very high.
At the same time, as others have pointed out, this is also a particularly sensitive year domestically for China, not just because of the political transition, but because China has already contended with more than its fair share of unwanted regional and international attention, from the Bo Xilai scandal to the Chen Guangcheng episode. This has raised questions about the very viability of the leadership transition process.
So my sense is that China has decided that it had better skirt this whole process because it has the potential to destabilize things at the domestic, regional and internal levels at a particularly sensitive time. As one Chinese military source put it, it was simply "not advantageous" for senior military officials to speak at the annual meeting.
Some may conclude that China's no-show conveys a secretiveness and insularity that when paired with its aggression on territorial claims makes for a pretty potent formula for engineering even more fear about Beijing's rise. While this may be true, there are a few things Beijing has done that at least attempted to appear reassuring. First, most of the response of China's representative, People's Liberation Army Lieutenant General Ren Haiquan to Panetta's announcement that the US will shift most of its warships to the Asia-Pacific by 2020, the highest level representative present at Shangri-La for China, was quite calibrated:
First, we should not treat this as a disaster. I believe that this is the United States' response to its own national interests, its fiscal difficulties and global security developments. The second sentence (of my response) is that we should not treat this indifferently. We must see that we're facing extremely complex and one could sometimes even say quite serious developments, and we must raise our awareness of peril, and prepare to cope with all kinds of complex and serious circumstances.
Focus Taiwan has the third part of Ren's comments, which place an emphasis on vigilance rather than confrontation (though the last sentence may seem quite threatening):
A third principle that China should adopt in regard to Panetta's statement is to "get ready for the worst and work hard for the best". Elaborating on the third principle, Ren said one who does not have strength will not be given a say in international affairs. "Therefore, it is incumbent on the People's Liberation Army to perfect its military strategy, strengthen its defense construction and raise its combat power". He went on to quote Mao Zedong as saying, "If we are not offended, we will not offend others; if we are offended, we will definitely offend the offenders. That means, he said, that when China's fundamental interests are threatened, it will strike back so fiercely that the enemy will feel frightened".
Second, lest one worries that this says something about China showing up at regional fora or about the way it is engaging more generally, think again. Chinese Defense Minister Liang, who also just visited the United States in early May, was not only present at the ASEAN Defense Ministers Meeting (ADMM) which recently concluded in Cambodia, but also reportedly explained China's stance on the South China Sea directly to Southeast Asian participants. Beijing also characteristically showered Cambodia, this year's ASEAN chair, with 19 million dollars in aid before the meeting. So there's something specific about the Shangri-La Dialogue that explains Liang's absence — whether it be US involvement or related risks with respect to what was going to be discussed.
Might the Chinese have offended Singapore, which takes its role as host of this Asia security forum very seriously? Well, note what has been occurring in terms of Beijing's diplomacy in Singapore beyond Shangri-La. Earlier in the week before the dialogue, Chinese foreign minister Yang Jiechi was in Singapore where he met his counterpart K Shanmugam, Prime Minister Lee Hsien Loong and Deputy Prime Minister Teo Chee Hean. And starting today, Chinese Community Party secretary Wang Yang will be in Singapore for an official visit.
So while we should be mindful about the negative implications of China's no-show at Shangri- La, we should also note the caution and nuance that Beijing exercises in its regional diplomacy even in a time of perceived distress, and be cognizant of broader regional developments before drawing conclusions about how Beijing engages more generally.
Picture: US Secretary of Defense Leon Panetta with Chinese Defense Minister Liang Guanglie, who did not attend this year's Shangri-La Dialogue in Singapore. Source: Secretary of Defense feed on Flickr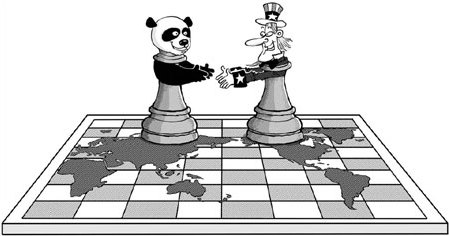 At this year's Shangri-La Dialogue which just concluded here in Singapore, Chinese Defense Minister Gen. Liang Guanglie declared that "to judge whether a country is a threat to world peace, the key is not to look at how strong its economy or military is, but the policy it pursues".
Well, Gen. Liang, the world has been looking. And, frankly, any keen outside observer could easily see how Chinese policy over the last few weeks has exacerbated threat perceptions among Beijing's Southeast Asian neighbors.
Last week, China damaged a Vietnamese exploration vessel off Vietnam's central coast, within which other countries regard as Hanoi's exclusive economic zone. Then, this week, in response to the Philippines' accusations of repeated Chinese incursions into its territory, Beijing scolded Manila, demanding that it "stop unilateral actions that damage China's sovereignty and interests at sea…and stop issuing irresponsible comments that are inconsistent with facts". China also confirmed that its first aircraft carrier, the "Shi Lang" (named after the Manchu Dynasty general who conquered Taiwan in 1683), which some have speculated will soon become operational, is indeed in the works.
Of course, some have rushed to point out that the Shi Lang's capabilities are still quite limited. And for all the rhetorical bluster, Chinese statements have ended with at least an expressed willingness to negotiate with the parties involved and a pledge to respond only if attacked.
But this misses the point. Threats are gauged through an assessment of both intentions and capabilities, which are in turn based on a combination of perception and reality. When China's reassuring rhetoric at conferences does not jive with its fits of nationalistic rage and aggressive actions over territorial disputes (or, in Gen. Liang's terms, "policy"), and it increasingly flexes its military muscle around its much smaller neighbors, this reinforces perceptions of threat, makes Beijing's words seem empty, and is likely to provoke ASEAN countries into seeking more robust defenses for themselves in the form of capabilities or friends. This is not an alarmist message about China's rise, a rush to contain Beijing, or a denial of its return as a great power on the world stage. It is a simple fact of life in international relations.
Asymmetric relationships such as China's relationship with ASEAN countries, my former professor Brantly Womack argues, are hard to manage because the bigger power expects deference from the smaller power, and the smaller power wants the larger power to understand its vulnerabilities. But if Beijing assumes the former and refuses to be sensitive on the latter, that is a sure recipe for disaster in the long run.
Maybe, hints John Pomfret in yesterday's Washington Post.
He recounts a May 24 U.S.-China meeting at a state guesthouse in Beijing, where Rear Adm. Guan Youfei of the People's Liberation Army, went on the following tirade:
Everything, Guan said, that is going right in U.S. relations with China is because of China. Everything, he continued, that is going wrong is the fault of the United States. Guan accused the United States of being a "hegemon" and of plotting to encircle China with strategic alliances. The official saved the bulk of his bile for U.S. arms sales to China's nemesis, Taiwan — Guan said these prove that the United States views China as an enemy.
The Obama administration, which some say has already spent too much time reassuring the Chinese — from postponing Mr. Obama's meeting with the Dalai Lama to downplaying human rights concerns — with little gain on issues like North Korea or climate change,  has dismissed Mr. Guan's remarks as an outlier:
U.S. officials have since depicted Guan's three-minute jeremiad as an anomaly. A senior U.S. official traveling on Secretary of State Hillary Rodham Clinton's plane back to the United States dismissed it, saying it was "out of step" with the rest of the two-day Strategic and Economic Dialogue. And last week in Singapore, Defense Secretary Robert M. Gates sought to portray not just Guan, but the whole of the People's Liberation Army, as an outlier intent on blocking better ties with Washington while the rest of China's government moves ahead.
That doesn't seem to be Mr. Pomfret's reading:
But interviews in China with a wide range of experts, Chinese officials and military officers indicate that Guan's rant — for all its discomfiting bluster — actually represents the mainstream views of the Chinese Communist Party, and that perhaps the real outliers might be those in China's government who want to side with the United States. More broadly, many Chinese security experts and officials view the Obama administration's policy of encouraging Chinese participation in solving the world's problems — including climate change, the global financial crisis and the security challenges in Iran and North Korea — not as attempts to elevate China into the ranks of global leadership but rather as a scheme to enmesh it in a paralyzing web of commitments.

"Admiral Guan was representing what all of us think about the United States in our hearts," a senior Chinese official, who deals with the United States regularly, said on the condition of anonymity because he was not authorized to speak with a reporter. "It may not have been politically correct, but it wasn't an accident." "It's silly to talk about factions when it comes to relations with the United States," said a general in the PLA who also spoke on the condition of anonymity. "The army follows the party. Do you really think that Guan did this unilaterally?"
Dean Cheng over at the Heritage Foundation also counsels against taking this Chinese tone too lightly. PLA Major General Zhu Chenghu, who was Mr. Gates' interlocutor at the recent Shangri-La Dialogue in Singapore and bluntly stated: "You, the Americans, are taking China as the enemy", is also far from an 'outlier':
General Zhu is the same officer who, in 2005, broached the idea that China's nuclear "no first use" policy on nuclear weapons might not apply if China was attacked with conventional weapons. Except that Zhu was subsequently appointed to head the Defense Affairs Institute at the PLA's National Defense University (NDU). The PLA's NDU is the equivalent of a military region, with precedence ahead of the actual military regions. More to the point, he is now attending the Shangri-La Asia Security Summit, representing the PRC…Beijing knows exactly what it was doing. In which case, Secretary Gates is seriously misreading the message that China is sending — China's leadership, both military and civilian, are not interested in deepening military-to-military relations unless the US abandons its commitment to Taiwan.
I would only add that a worrying number of people knowledgeable about China have also expressed grave doubts about Beijing's willingness to cooperate in recent months. "The truth", one U.S. official told Council on Foreign Relations China expert Elizabeth Economy late last year, "is that the Chinese do not want to cooperate". After extensive discussions with foreign policy analysts and Chinese strategists and elites, Brad Glosserman, director of Pacific Forum CSIS – a think tank — concluded that China tends to attribute problems like North Korea, Iran and Afghanistan-Pakistan to these countries' desire to reshape their bilateral relationships with the United States,  and therefore feels like Washington should bear the burden of resolving these dilemmas, while Beijing has a small, if any role to play (this is similar to the kind of sentiment Mr. Pomfret found). A CSIS survey of Chinese elites also showed that few saw any sense of international responsibility for Beijing globally, with a whopping 90 percent rejecting an international leadership role for China.
Chinese conduct up to this point mostly confirms this. With the exception of not vetoing fresh Iran sanctions at the U.N. Security Council, China wrecked last year's Copenhagen conference, has thus far refused to take a tougher stance on North Korea despite its clear involvement in the sinking of a South Korean ship, and declined to lift a finger to assist in the Af-Pak region. Meanwhile, China's blistering military modernization is sounding alarm bells among Washington's allies in Asia (consider Singapore's patriarch Lee Kuan Yew's concern about China expressed during his last trip to Washington , or Australia's recent defense white paper). Secretary Gates himself admitted last year that China "could threaten America's [previously unchallenged] ability to project power and help allies in the Pacific". And a handful of U.S. experts from across the political spectrum, including some who were previously more optimistic about China, recently concluded almost universally that Beijing had reverted to an aggressive stance in the South China Sea (others also seem to agree).
I agree that U.S. cooperation with China is essential in order for progress to be made on a range of important global issues, and that both Washington and Beijing should try to make this come about. I also realize these matters are tough and don't yield quick results. I just think the Obama administration, like any other administration in office in the United States, ought to be more honest and realistic about how much and how far the Chinese are willing to go to cooperate. So far, I suspect that even some State Department officials would agree with me when I say that the record hasn't been very encouraging. If so, the United States should start acting like this is the case, instead of harboring illusions about how China perceives Washington as recent reports seem to suggest.