Malaysia on the Wrong Track with Anti-Gay Camp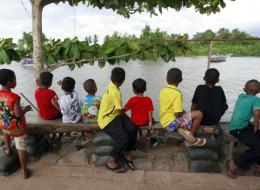 Last Tuesday morning, with my head still buried under the pillow, I groped for the blaring phone on my desk. Upon finally reaching it, I flipped it up and pressed it against my ear, ready to grumble at a friend for interrupting my deep slumber. I was rudely awakened, however, when I heard a man with a British accent begin, "Hi Prashanth, I'm calling from the BBC and…"
The BBC wanted me to be a guest on their "World have your Say" program airing in three hours. They had contacted me earlier in the semester after reading my blog, "The Asianist," and requested that I be part of a rotating panel of journalists and bloggers to discuss current affairs on this new program. This week's topic? Sixty−six allegedly effeminate boys, ages 13 to 17, had been sent to a corrective boot camp of sorts in the Malaysian state of Terengganu, causing outrage in the blogosphere.
As I said on the program later that day, this doesn't surprise me. Malaysia is notorious for its discrimination against gays. Sodomy is punishable by 20 years in prison, a law made famous by the country's former Deputy Prime Minister Anwar Ibrahim, who is on trial for the second time for that offense. Positive portrayals of homosexuality in the local media can lead to $17,000 fines, and even negative depictions are frowned upon. Members of Malaysia's conservative Pan−Malaysian Islamic Party (PAS), for instance, are now calling for the country's first gay−themed blockbuster movie "Dalam Botol" (Inside a Bottle) to be banned, despite its anti−homosexual ending. And local radio stations garbled the line "No matter gay, straight or bi, lesbian or transgendered life, I'm on the right track baby" in Lady Gaga's hit song, "Born this Way."
This particular incident happened in one very conservative Malaysian state. The state's education director, Razali Daud, says the camp is meant to guide the 66 "effeminate" boys "back to the right path in life before they reach a point of no return." It will include four days of religious and physical education followed by counseling.
The idea is absurd and the country's political leadership should say so. Malaysia's Women's Affairs Minister Shahrizat Abdul Jalil has rightly pointed out that this case violates the country's Child Act. But what about the notion of the state "re−educating" allegedly "deviant" people? That promotes homophobia and prejudice to a degree that is unprecedented even for Malaysia. As Pang Khee Teik, a Malaysian sexual rights campaigner who was on air with me during the BBC program said, this is downright "scary."
The more likely scenario, however, is that the government will stay silent. On what grounds could it oppose the camp when it is itself being accused of using trumped up sodomy charges to politically undermine Mr. Ibrahim, now an opposition leader? Furthermore, with national elections looming, Malaysian Prime Minister Najib Razak may not want to ruffle conservative Malay feathers because this could cost him at the polls. His ruling Barisan Nasional coalition won the state of Terengganu in 2008 national elections, lost it in a by−election a year later and now wants to win it back.
Meanwhile, Malaysia's international image continues to be tarnished. As a Malaysian, I have grown weary of my country being in the limelight for issues of this ilk. When I seemed enthusiastic about the prospects for advancing human rights in Southeast Asia at my internship at the Center for Strategic and International Studies in 2007, one scholar asked cheekily, "How's Anwar doing?"
That he could make that same sarcastic remark four years later and still convey his point says a lot about the sordid state Malaysia is in. Its politicians should focus more on getting the country back on the right track and less on absurd notions like getting deviant youths back to the "right path of life."
This article was first published in the Tufts Daily here.
Photo: Huffington Post