Archive for April 2011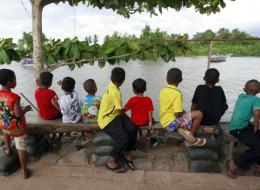 Last Tuesday morning, with my head still buried under the pillow, I groped for the blaring phone on my desk. Upon finally reaching it, I flipped it up and pressed it against my ear, ready to grumble at a friend for interrupting my deep slumber. I was rudely awakened, however, when I heard a man with a British accent begin, "Hi Prashanth, I'm calling from the BBC and…"
The BBC wanted me to be a guest on their "World have your Say" program airing in three hours. They had contacted me earlier in the semester after reading my blog, "The Asianist," and requested that I be part of a rotating panel of journalists and bloggers to discuss current affairs on this new program. This week's topic? Sixty−six allegedly effeminate boys, ages 13 to 17, had been sent to a corrective boot camp of sorts in the Malaysian state of Terengganu, causing outrage in the blogosphere.
As I said on the program later that day, this doesn't surprise me. Malaysia is notorious for its discrimination against gays. Sodomy is punishable by 20 years in prison, a law made famous by the country's former Deputy Prime Minister Anwar Ibrahim, who is on trial for the second time for that offense. Positive portrayals of homosexuality in the local media can lead to $17,000 fines, and even negative depictions are frowned upon. Members of Malaysia's conservative Pan−Malaysian Islamic Party (PAS), for instance, are now calling for the country's first gay−themed blockbuster movie "Dalam Botol" (Inside a Bottle) to be banned, despite its anti−homosexual ending. And local radio stations garbled the line "No matter gay, straight or bi, lesbian or transgendered life, I'm on the right track baby" in Lady Gaga's hit song, "Born this Way."
This particular incident happened in one very conservative Malaysian state. The state's education director, Razali Daud, says the camp is meant to guide the 66 "effeminate" boys "back to the right path in life before they reach a point of no return." It will include four days of religious and physical education followed by counseling.
The idea is absurd and the country's political leadership should say so. Malaysia's Women's Affairs Minister Shahrizat Abdul Jalil has rightly pointed out that this case violates the country's Child Act. But what about the notion of the state "re−educating" allegedly "deviant" people? That promotes homophobia and prejudice to a degree that is unprecedented even for Malaysia. As Pang Khee Teik, a Malaysian sexual rights campaigner who was on air with me during the BBC program said, this is downright "scary."
The more likely scenario, however, is that the government will stay silent. On what grounds could it oppose the camp when it is itself being accused of using trumped up sodomy charges to politically undermine Mr. Ibrahim, now an opposition leader? Furthermore, with national elections looming, Malaysian Prime Minister Najib Razak may not want to ruffle conservative Malay feathers because this could cost him at the polls. His ruling Barisan Nasional coalition won the state of Terengganu in 2008 national elections, lost it in a by−election a year later and now wants to win it back.
Meanwhile, Malaysia's international image continues to be tarnished. As a Malaysian, I have grown weary of my country being in the limelight for issues of this ilk. When I seemed enthusiastic about the prospects for advancing human rights in Southeast Asia at my internship at the Center for Strategic and International Studies in 2007, one scholar asked cheekily, "How's Anwar doing?"
That he could make that same sarcastic remark four years later and still convey his point says a lot about the sordid state Malaysia is in. Its politicians should focus more on getting the country back on the right track and less on absurd notions like getting deviant youths back to the "right path of life."
This article was first published in the Tufts Daily here.
Photo: Huffington Post
As thousands of representatives convene in Phnom Penh today for a donor conference, Cambodia is mulling a draft NGO law that forces associations and non−governmental organizations to undergo an onerous registration process.
While the government says the bill aims to stem crime and promote transparency within these institutions, it doesn't take a lawyer of Atticus Finch's acumen to grasp this as another veiled attempt by Prime Minister Hun Sen to curb dissent and destroy the fabric of civil society in the country.
Over the course of ten years up till the financial crisis, Cambodia appeared to have pulled itself out of the abyss of war and genocide, building a $10 billion economy expanding at an annual average of nearly ten percent per year. But this hollow economic growth has lined the pockets of Prime Minister Hun Sen and his cronies rather than trickle down to the country's citizens. According to Joel Brinkley, a Pulitzer Prize−winning veteran New York Times reporter and author of a fresh book on Cambodia, 80 percent of Cambodians still live without access to basic electricity, water or sanitation, while nearly half of the country's children grow up stunted due to lack of nutrition. Phnom Penh ranks a dismal 154th in Transparency International's 178−nation Corruption Perception Index, and the global economic recession exposed its deep and unhealthy dependence on garment exports.
Economic growth has also coexisted with increasing political repression. Over the past few years, the country's strongman Hun Sen has used the courts against prominent opposition figures, outlawed demonstrations, and restricted free speech and organized labor, turning Cambodia into a de−facto one−party state. He has also whipped up anti−Thai sentiments in Cambodia to shore up his domestic popularity, according to Kevin Doyle, editor−in−chief of the Cambodia Daily who spoke at the Fletcher School last week. Hun Sen, a former Khmer Rouge and currently South East Asia's longest serving leader, already enjoys an iron grip on power, with his Cambodian People's Party (CPP) winning 90 of 123 lower house parliamentary seats in the last election. Like most observers, Mr. Doyle sees Hun Sen's political dominance continuing over the next few years.
The NGO law is clearly the latest manifestation of Hun Sen's authoritarian streak. There is a high risk of it being misused to silence dissent, particularly since Phnom Penh can reject new registrations or shutter existing groups without explanation or appeal. Fresh amendments introduced by the government since the draft law was first introduced in December 2010 only make this outcome even more likely. As a result, sixty−two international organizations working in Cambodia, including Amnesty International and Human Rights Watch, have called on the government to withdraw the law and for donors to protest it.
Few good options exist, however, for the international community. Cambodian officials have grown accustomed to the pattern of absorbing criticism at pledge conferences, promising to reform and then using the over $1 billion in aid for themselves rather than their people, says Mr. Brinkley. Human rights groups, on the other hand, heckle donors to withhold their greens every year to no avail. Besides, many donors now write off aid as a form of leverage because China is ever−willing to step in for the West — no strings attached. Last year, just weeks after the United States froze military assistance to Cambodia, China pledged millions of dollars in new aid to the Cambodian military.
But setbacks should not lead to cynicism. Cambodia's garment industry is sufficiently reliant on Western markets. In particular, the United States, Cambodia's largest trading partner, can help Phnom Penh integrate into the international order as it diversifies its economy after the crisis. This is leverage that can be exercised to ensure that the NGO law and Hun Sen's future repressive actions do not occur without protest. Cambodia ought to be governed by those that uphold the rule of law, rather than those who misuse the law to rule.
Late last month, the World Trade Organization (WTO) reversed its past finding and ruled in China's favor on countervailing duty and anti−dumping measures in U.S.−China trade. The decision rankled the United States and validated the view among some Chinese that international rules can work in their favor. But it also points to the need for Washington to be more strategic about taking China to the WTO on trade disputes in the future and to think critically about the best approach to use.
One future U.S.−China trade battleground to ponder about is rare earths, a group of 17 elements scattered across the Earth's crust that are essential components of important technologies like cell phones, precision−guided missiles and hybrid cars. China, which accounts for 97 percent of global rare earth production and 60 percent of consumption, has slashed export quotas over the last few years and imposed a de facto ban on all rare−earth exports to Japan in 2010. Some argue that Beijing is deliberately attempting to hoard the strategic resources for political reasons, but China retorts that it needs to regulate rare earths both because it is a finite substance and because it contributes to environmental degradation. The Office of the U.S. Trade Representative has repeatedly threatened to seek a WTO dispute settlement.
While Article XI of the General Agreement on Trade and Tariffs (GATT) does prohibit quantitative restrictions on products, Article XX(g) provides that it is acceptable for a state to use export restrictions if the quota relates to the conservation of exhaustible natural resources and is adopted in conjunction with a domestic program that imposes similar restrictions on domestic producers.
China could make a convincing case that the export quota is designed to conserve a finite resource. Since some industry forecasts already project that rising demand may cause a 40,000−ton annual global shortfall by 2015, China may wish to control its exports lest it be forced to import rare earths in a few years. And with Beijing powering 97 percent of the world's output with just 36 percent of global rare earth reserves, one could argue that China is currently supplying far too much rare earth elements. Furthermore, Beijing could reasonably assert that such conservation is required to regulate the environmental degradation that results from rare earth mining, including instances of water pollution and deforestation that are well−documented in China.
On the issue of equal international−domestic treatment, however, Beijing appears to be on thin ice. In a speech at the Fletcher School of Law and Diplomacy last month, Mr. Gu Bin, a Fulbright visiting scholar at Harvard Law School and a research fellow at the Chinese Ministry of Commerce, argued that the Chinese government's attempts to encourage mergers and acquisitions in the rare earth sector to slash the number of firms involved constitutes a domestic restriction. But it is hard to see how one could equate quantitative international restrictions on the one hand with the domestic reorganization of China's rare earth sector on the other. Government−backed mergers and acquisitions may represent repackaging or even reform, but they are not direct restrictions in the same way that quotas are. The crux of any U.S. case against China on rare earths should thus be on this point.
Mr. Gu was quite adamant in suggesting that "the solution of mineral trade disputes is beyond the WTO." But given the WTO's recent reversal and the fact that a strong case exists, an increasingly protectionist U.S. Congress may be itching for another fight. If Washington chooses to take Beijing on in another round, it should make sure it understands the nuances of both sides in order to deliver the legal knock−out punch. For as Chinese military strategist Sun Tzu once averred, "If you know the enemy and know yourself, you need not fear the results of a hundred battles."
This article was first published in the Tufts Daily here.